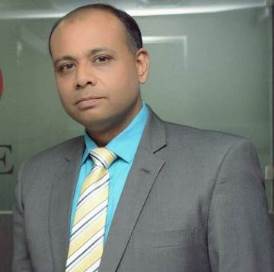 IILM Lucknow has emerged as a centre of educational excellence which imparts a good mix of theory and practical knowledge to its students. CMIE has been recruiting from the institutes for some years and has found IILM's students having the required skill set to undertake CMIE's business content writing assignments. I wish the institution my best for becoming the institution of choice in the management sphere.
Mr. Syed Hasan Jafar
Head – Market Intelligence & Price Polling (CMIE)
We are very pleased to be associated with IILM Institution for the recruitment for internship of extremely professional and well-groomed candidates. IILM provides its students with a very talented group of industry experts as its faculty along with state-of-the-art campus. We are very pleased with the understanding of the students we have recruited for internship from your esteemed Institution. It speaks volumes about the efforts the management and the faculty put in to bring the students to the level of excellence they have achieved. Also, we would like to mention the discipline and the professionalism that the Institute has imbibed in the students to take them forward as future leaders of the Industry. We appreciate all the efforts the faculty takes to make the students market ready. We would be very pleased to be associated with the Institute for a long time to come and add to our bouquet of experts.
Mr. Samar Bhalla
Senior Talent Acquisition Specialist (HCL TSS)